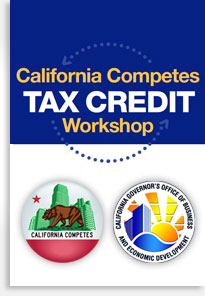 The Governor's Office of Business and Economic Development (GO-Biz) is hosting a workshop on the California Competes Tax Credit (CCTC). Small, medium, and large businesses are encouraged to attend the workshop and receive instructions on how to apply for this tax credit program.
Friday, August 12
10 - 11:30 a.m.
Stockton City Hall
City Council Chambers
425 N. El Dorado St., 2nd floor
Register for the CCTC workshop [2]
What is the Credit?
The California Competes Tax Credit is an income tax credit available to businesses that want to locate in California or stay and grow in California.
Who Can Apply?
Any business can apply for the CCTC and there are no geographic or sector-specific restrictions that impact eligibility. In addition, 25 percent of the total credits available each fiscal year are specifically reserved for small businesses.
Mark Your Calendars!
The next application period begins July 25, 2016 and closes August 22, 2016. Go to calcompetes.ca.gov [3] to apply.
For more information about the CCTC, visit this website [4].